Global music and entertainment platform TIDAL recently announced the availability of 'Master' quality recordings. A wide variety of content from labels and artists, including Warner Music Group's world-renowned music catalogue, is now available in Master audio across all of TIDAL's available markets worldwide.
TIDAL has integrated MQA, the award-winning technology that enables this innovation, and has offered it to all TIDAL HiFi tier subscribers under a new 'Master' listing. A wide range of recordings are already available and the collection will continue to grow.
To experience MQA over TIDAL on the DMS and AiOS network streamers, you must subscribe to TIDAL's HiFi subscription and already have an account. To find and play 'Masters' on the DMS-500, simply turn on the DMS-500 and select the "STREAM" button. Next, select "INTERNET" then select "TIDAL" from the list of Internet Music Services. Once logged on, select "TIDAL Masters" to see and play a list of all available MQA Master Albums.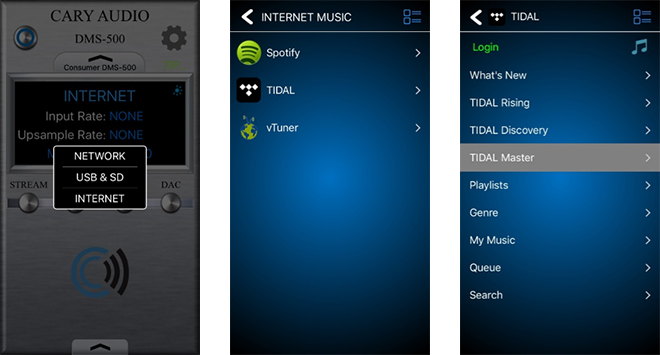 To sign up or create playlists, you must use the TIDAL desktop app as described below. Please follow these steps:
Signup for a TIDAL HiFi account.
Download the TIDAL desktop app on your PC or MAC.
As per the notice, click on "What's New" and scroll down to "Masters."
Mouse over a selection and click on the three (3) dots to expose a dropdown list. This can also be done by track vs. album. Click on "Add to Playlist."
Select the playlist you wish to add the album or track to and click on it. If you want to create a new playlist, select "Create New" and name it as you desire.
The next time you open and sign onto TIDAL with the DMS-500 app, simply select "My Music" to see the MQA "Masters" playlists you previously created on your desktop.