Welcome to the DIY parts section of the Cary Direct Store! Cary Audio has a history of supplying components to DIY customers for many years. In the course of design and manufacturing of products, we have numerous prototypes, chassis, capacitors, transformers, etc. to help you build your dream project. See below for stock of specific components. If you would like Cary Audio to install these parts or any other upgrades and modifications, please visit our RMA/Service Center page. Please feel free to contact us if you have any questions regarding the parts below or to inquire about your needs.
---
Commonwealth Sprague Vitamin Q Capacitors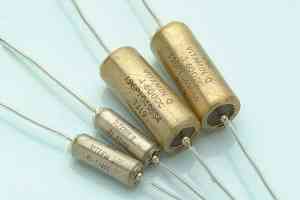 Years ago our parts company, Audio Electronic Supply, was a distributor for the Commonwealth Sprague Vitamin Q series capacitors. During that time, we made a stock buyout of a number of their capacitors. During the recent move to our new factory, we discovered we have a number of the values still in stock. Some are listed with the appropriate silkscreen identifying the company, the value of the capacitor, etc. and some are blank. We have tested the capacitors without markings for their value and have labeled the boxes accordingly.
The Vitamin Q capacitor is an ideal capacitor for audio applications. The Vitamin Q capacitor is impregnated with the inert synthetic polymer Vitamin Q, which is a custom blended oil. The oil is thick and has a very stable dielectric constant, which is considered ideal for the audio industry. The Vitamin Q oil is so thick it clings to all parts inside of the capacitor and, as a result, dampens all possibility of relevant mechanical ringing. The Vitamin Q also offers low effective series resistance, which results in a nearly musically transparent capacitor. The Vitamin Q comes as close as possible to the perfect capacitor.
We have a number of values in 100v, 200v, 300v, 400v, 600v, and 1000v. We have between 1,500-2,000 in stock and would like to sell the entire lot at one time.
Lot Price: $1,200
U.S. Shipping Cost: $235
---
Jensen Copper Foil/Paper-in-Oil/Pure Silver Lead-Out Capacitors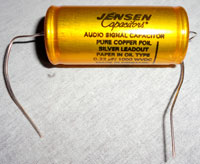 Jensen has been making capacitors in Denmark for over 90 years. Their Copper foil oil filled capacitors are legandary for use as coupling caps. They feature a pure copper foil with pure silver lead wires. The aluminum housing is hermeticaly sealed for long life and stability. These will provide improvements in imaging, clarity, detail warmth, and texture.
$90.00 each
---
Cary Audio by ClarityCap MR Capacitors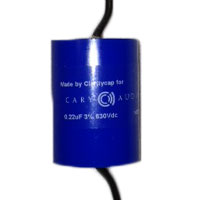 The Cary Audio ClarityCap MR series capacitors are custom made for us by ClarityCap. The capacitors are manufactured from a non standard polypropylene film using an ultra pure aluminum metallisation. The component is housed in a colored acrylic tube and encapsulated in an epoxy resin which limits the effect of mechanical resonances within the capacitor and assists in the overall sonic performance. Upgrading your amplifier or preamplifier with the ClarityCap MR capacitors can show improvements in imaging, detail, clarity, air and bass definition, yet the ClarityCap MR series capacitors are very smooth and clean without any edge or hardness.
$90.00 each
---
Hexfred Rectifiers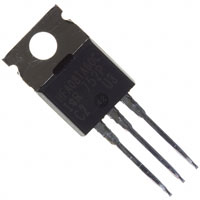 If you have not had it done to your favorite Cary Audio piece, the Hexfred option makes an awesome difference! Hexfreds are high speed low noise rectifiers and replace your existing standard rectifiers in the power supply. You will notice more speed, air, detail, imaging and tighter bass, yet a cleaner clearer sound quality. The Hexfreds help to provide a cleaner, faster DC voltage which shows up very noticeably in the sound quality. There is one more layer of hash and hardness (noise) that is removed so that you can just enjoy the music! Bass is faster with more details and the midrange and highs are cleaner and clearer. You will hear more detail with less bite.
$25.00 each
---
Grayhill Selector Switch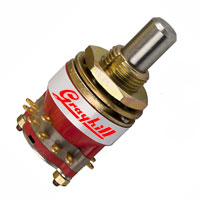 The Grayhill Selector Switch is a great way to update your input selector switch, and is designed to last the life of your equipment with its mil-spec standard. Its sealed enclosure with gold plated contacts allows for smooth action, long life, and excellent conduction. It will keep your unit sound and switching perfectly for years. Works in the SLP-98, SLI-80, 300SEI, and many other Cary preamplifiers and integrated amplifiers.
$45.00 each
---
WBT Speaker Binding Posts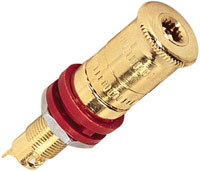 Excellent high quality WBT speaker posts for improved overall sound and connection.
$50.00 each
---