CES 2016 was a very interesting show with lots of head nodding and twisting, double takes and inferences to Cary Audio designers being hipster twenty something year olds on acid (see AiOS below). That's actually a good thing as we've come a long way, baby!
Every product we showed was brand new in both design and cosmetics with massive feature sets. First off was the DMS-500 network audio player/streamer. At $4,995 and NOW SHIPPING, the DMS-500 is at the top of the food chain for network audio and hard disc playback. Press, dealers and distributors alike were amazed by its capability, looks and performance considering its price. A beautiful full color HD display trimmed in an aluminum silver frame emphasizes the beautiful artwork graphics and track information with a sleek uncluttered look. The DMS-500 comes with an IR remote control which is a snap to use as well as custom apps for Android and iOS. If by chance you really like another DLNA/UPnP app, no sweat. You can also use it and the DMS-500 as a renderer, as well as a client server. Also, the DMS-500 includes aptX® Bluetooth, Airplay, SPDIF inputs and reference quality digital and analog sections for spectacular sound. Oh yeah, the DMS-500 streams 32 bit 384kHz PCM and DSD up to 512. It can also convert PCM to DSD or just upsample in PCM to 768kHz, or upsample DSD64 to 128 /256 or DSD128 to 256. Click here to learn more on the DMS-500 Digital Music Center.
For power we debuted a new solid state integrated amplifier with a DAC. The SI-300.2d is a class AB 300 watt per channel solid state integrated amplifier with a first rate SPDIF and Asynchronous XMOS USB DAC with aptX® Bluetooth. The new styling was a smash and is nothing short of gorgeous. The front panel has an information text display on the left side and a pair of beautiful VU meters bathing in "Cary blue" on the right side that shows the awesome power output of 300 watts per channel into 8 ohms and 450 watts into 4 ohms. Located dead center is a silky smooth silver volume knob flanked by both the display and meters on either side, all of which are trimmed out in a classy silver aluminum frame creating a spectacular two-tone look on the black faceplate. Also, available in all silver. This all solid state system got countless accolades for sounding wonderfully smooth and powerful. "No tubes?" was often muttered in awe. The SI-300.2d will have a projected list price of $5,995. Click here to learn more on the SI-300.2d integrated amplifier.

Last, but certainly not least was the debut of our new Lifestyle Series AiOS. As the first product in our new Lifestyle Series, AiOS stands for All-in-One-System. That's exactly what it is and more! AiOS combines a powerful integrated amplifier with a network and internet streamer, USB & SD card player, send AND receive aptX® Bluetooth (for not only receiving BT music from your phone/tablet, but also to send BT to BT wireless speakers or headphones), AirPlay, analog and digital inputs, and Wi-Fi and Ethernet connectivity. As if this isn't enough, AiOS lives up to its Lifestyle moniker in spades. The small and compact curved contoured chassis in gunmetal gray has the footprint of a small laptop. The front panel illumination (hence the reference to the acid) is a rainbow of color selection. By using the remote or app, one can change the illumination color to any hue with a continuous RGB selection of color and brightness to match your décor and blend into your lifestyle. What's more? We will offer six (6) different color anodized aluminum side panels to match or compliment your style. AiOS…Your life, Your style, Your music. AiOS's projected target list price is $2,495. Click here to learn more on the AiOS (All-in-One-System).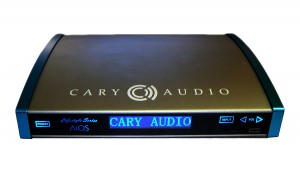 Acclaimed magazines in our industry are talking about Cary Audio! Check out what they had to say about us in their Consumer Electronics Show reports.
"The Best of CES 2016" by John R. Quain Editor-At-Large & Gary M. Kaye, Chief Content Officer on Tech50Plus
"Cary Audio AiOS Network Player/Streamer/DAC/Pre/Integrated" by Jon Iverson on Stereophile
"Cary AiOS Goes Lifestyle" by Michael Lavorgna on Audio Stream
"Cary's Network Player" by Herb Reichert on Stereophile
"CES 2016: Digital and Personal Audio" by Alan Taffel on The Absolute Sound
"CES 2016: Electronics $15k and Under" by Jim Hannon on The Absolute Sound
"CES Scene: A Baker's Dozen of new Amplification Components" by Chris Martens on Hi-Fi Plus
"Cary's Network Player" by Herb Reichert on Stereophile