Cary Audio created quite a buzz at this year's Rocky Mountain Audio Fest (RMAF) demonstrating outstanding sound at affordable real world prices.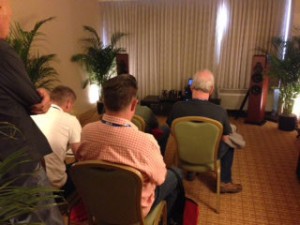 With no room treatments or digital room processing we auditioned a system capable of incredible foundation, smoothness, depth and soundstage that kept attendees and press alike coming back repeatedly. The heart of this system was our Ultimate Edition SLI-80 integrated amplifier. Although capable of 80 watts a channel in AB, we choose to run it in class A Triode mode at 40 watts a channel. This special Ultimate Edition SLI-80 was designed to offer a truly reference level of performance in a compact package when space is at a premium. "Remarkable", "stunning" are just a few words used by those lucky enough to hear it.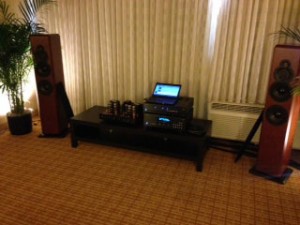 We switched between two digital sources primarily using a PC as the file source. The bargain priced solid state DAC-100 offered exceptional musicality for PC/MAC USB PCM files up to 24/192. The second digital source was our new Digital Music Center, the DMC-600 shipping soon. This provided playback of PC/MAC USB of DSD files, PCM Up to 32/384, CD's (yes, it has a CD transport!), Bluetooth and of course SPDIF. The DMC-600 presented tremendous detail and an outstanding sense of air, depth and soundstage while demonstrating its digital up sampling capabilities and on-the-fly switchable solid state/tube analog output stage.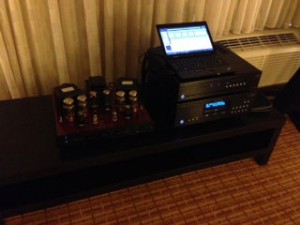 We partnered once again this year with our friends at ADAM Audio. Their Column MK3 loudspeakers really showed off the capabilities of the Cary Audio electronics. The Column MK3 with their dual 7″ bass drivers and X-ART (Accelerating Ribbon Technology) AMT (Air Motion Transmitter) midrange and tweeters produce nothing short of outstanding reference level sound. Not surprising considering their background as one of the world's largest supplies of reference monitors and loudspeakers to the professional recording, motion picture, and broadcast industries.
Thanks again to everyone for the tremendous response. It was a great time for all!